The Golden Globes! You either love them in spite of themselves, or you hate them. Every year people watch them expecting them to change and then somehow feign shock when they give a statue to Madonna or when they prefer one movie to another (like every other awards organisation known to mankind). Every year in the lead up there are articles about how dodgy the organisation is and, well, who can argue with them except to maybe point them in the direction of
this Slate article
that at least points to some of the Hollywood Foreign Press' finer moments (and let's not forget when their starfuckery allows them to nominate Nicole Kidman for
Birth
!) Sure, they're hardly the greatest organisation known to man, but I'll take them over the Broadcast Film Critics Association any day of the week (more on them soon) who, quite literally, have no other reason to exist than to predict Oscars. The Golden Globes' reason to exist is to see hundreds of celebrities in one place whilst simultaneously hoping they get drunk and make balls of themselves on national TV in between occasionally handing out some awards.
After yesterday's show I learnt a few things and thought I would share. I'm giving like that, you see.
I want...
an alien invasion film starring alien goddess herself, Tilda Swinton! Just imagine it! We've seen so many alien invasion movies over the history of cinema - and these last few years in particular - but never has one of them actually starred Tilda Swinton who is an
actual
alien goddess from an intergalactic dimension. Which one she's from I am not entirely sure since our puny human brains can't comprehend their native language, but I'm sure somebody in Hollywood's script-writing circles can come up with a good name for it. In the grand scheme of the things, I think I'd rather Earth be overtaken by a galaxy-hopping band of Swintonites with their immaculately coiffed hair and delicately dressed bodies that would most certainly float about as if walking on air. Better than
Battle: Los Angeles
, surely.
I want...
Michael Fassbender. Aka Michael Fassboner. Aka we've already seen his dick so the constant jokes about it being the size of
War Horse
are a touch off base, but it's still fun to hear a man's genitals so opening discussed in pop culture rather than merely the size of a woman's breasts. Sure, it's reversed objectification, but we are only human and gawking at pretty people is surely just a part of our DNA. And, hey, if it's good for George Clooney...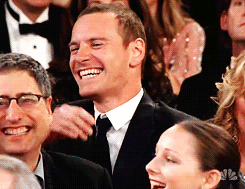 At least Michael here is having fun with it. You bite that finger, Michael.
I want...
this hilarious accidental
Charlie's Angels
snapshot to become "a thing". It's cute and funny and even though I have no idea who the lady in yellow is, I just love the way she accidentally posed in front of one of the red carpet helpers (a better job than a Christmas time Santa helper since you at least get to wear nicer clothes? other than that I can't figure how that job is any less demeaning) and that both of them look like they're gunning for
Charlie's Angels 4.0
- I never saw the recent
Charlie's Angels
reboot series, but heard it was entirely deserving of being axed/nominated for Best Musical/Comedy at the Globes. She chin modelling, the other swiping away a strand of hair. It's
Charlie's Angels
or a really lame romantic comedy, one of the two.
I want...
more Sofia Vergara. Like, in everything. She is clearly best in show on
Modern Family
(although let's not forget Julie Bowen, who I was so glad won the Emmy last year because that sort of straight man performance can go criminally ignored and unrewarded - still, why hasn't Vergara won one yet?) and at yesterday's event (and many times prior) proved that she has the ability to pull that personality out of a hat at any given moment. The speech she helped give for the series' win in Best Comedy Series was one of the very, very few speech jokes that actually worked. Plus: this
I just love how completely unphased she is by everything and continues to be a big ol' elastic dork. She and Charlize Theron had such great, overflowing personalities during the awards red carpet and subsequent show (even with Theron suffering from laryngitis!) that it's hard to imagine how anyone could find the likes of Rooney Mara interesting when these two are within a million miles.
I want...
this
Gerard Butler in a romantic comedy. Not the mean-spirited, badly American accented, misogynistic Gerard Butler that we got in
The Ugly Truth
, but the sexy, fun, somewhat charming Gerard Butler that he's showing off in this photo. I mean, we all know he's got a bit of oomph with his clothes off, but yesterday he was looking quite swank with the beard and the curly hair and the three-piece tuxedo. Should I be wanting to see this
Machine Gun Preacher
movie? I doubt it, but maybe with that and
Coriolanus
, Butler's own attitude to his career is changing and that is always a good thing. Don't let dumb American romcoms and burly action films that all "it" actors get given define your career, Gerard!
Bitches, please!
Perhaps I'm alone on this, but a beard and curly hair combo will get me nearly every time (see also further down the list as well as the unseen Bradley Cooper).
I want...
a Michelle Williams and Busy Phillips buddy comedy! Think
Dick
(oh hush up!), but even better! Actually, put her
Dick
co-star, Kirsten Dunst, in all of Williams' upcoming dramatic movies (she proved she's up to the task with
Melancholia
) and put Williams in something bubbly and comedic that Dunst is more likely to veer towards. Assign Busy Phillips as her new co-star and voila, movie magic! The best thing to ever come out of Michelle Williams receiving an awards nomination is that she will inevitably bring Busy Phillips along as her plus one, and for that we should be eternally grateful. Busy is Amaze, as
Joe Reid
put it on Twitter, "pulling focus in all background shots."
Please bring back
Cougar Town
, y'all! What! Whaaat!
I want
... Laura Dern cast in more things. Like, basically anything. I will take Laura Dern in ANYTHING! I haven't even seen any of this
Enlightened
program and I squealed when her name was announced as the winner of Best Actress in a Comedy Series (or whatever the Globes' ridiculously long category name is). She is always good value, whether its as unofficial David Lynch muse (
Blue Velvet
,
Wild at Heart
,
INLAND EMPIRE
), in thorny arthouse titles (
Citizen Ruth
,
We Don't Live Here Anymore
,
Year of the Dog
), big budget blockbusters (
Jurassic Park
), family fare (
October Sky
), icy political biopic (another Golden Globe-winning performance in
Recount
), or any of her other roles (hey, remember her on
Ellen
?!). One of the awards' highlights was watching Dern's mother, her
Wild at Heart
and
Enlightened
co-star Diane Ladd, getting very emotional seeing her daughter on stage.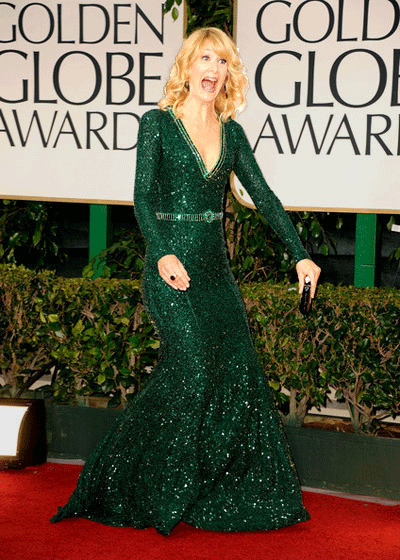 And, hey, if she shows up to awards shows looking like she did yesterday then please nominate her every single year! Christmas tree gif courtesy of
The Film Experience
. THE FACE!
I want...
Ewan McGregor. No explanation necessary, right?
RIGHT?!?!
Words, there are none. Don't even try, 'cause he's still got it.
Even now. Still. Never quit.
I want...
Seth Rogen. Sorry, I do. I can't help it, I just can't. It's the curly hair, the glasses, the scruff, the laugh, the "hysterical comedy" quip about
My Week With Marilyn
... all of it, you guys! Inappropriate boner gag included. Seth Rogen in a three-piece suit was at least partly why I enjoyed
The Green Hornet
so much (partly! PARTLY!). There's just something so adorably about him and I look forward to seeing him in
50/50
and
Take This Waltz
in 2012.
I want...
Jessica Chastain and Melissa Leo to co-star as a mother-daughter Texan trailer trash pair who "done good", but still can't shake their pasts. Of course, Chastain must have the same hair that she wore down the red carpet yesterday and Leo must be as bizarrely coiffed as she was at the 2008 Academy Awards when she was nominated for
Frozen River
. It'll be big hair paradise and we know they can do unshakeable trash (
The Help
,
The Fighter
)!
Either that or Jessica Chastain can just star in a comedy
Fergie!: Dutchess of Yorkshire Puddings
as Sarah Ferguson. You just know if that particular biopic was ever made that it would have to be a comedy. No way could they
Iron Lady
out that doozy of a story into anything remotely close to being a drama.
I want...
Jean Dujardin! Yeah, yeah, but he is a charm factory! It's like a box factory, but instead of plain ol' brown cardboard boxes he makes boxes that when you open them they spill glitter and shiny things all over the place and then you get a bit annoyed because you have to vacuum that shit up, but still enjoy the sentiment. Which is basically my completely ridiculous analogical way of saying that I totally get what
The Artist
is all about and I appreciate it for that, but there are still quibbles to be had (mostly the second act). Still, I cannot fault Jean Dujardin who is a charm fac... wait, I've said that already. Anyway, he's super adorable and that speech probably went a great deal of the way to put him in at least joint second for the Oscar (with Brad Pitt, Clooney is still - depressingly - out front, I reckon). That silent speech gag was a treat! Any time he wants to use that "too expressive" face near me is a-okay!
I want...
these three women to get the credit their outfits demand.
Jamie Bell was right, Evan Rachel Wood did stun!
In regards to fashion, I was also a fan of Laura Dern, Emma Stone, Tilda Swinton, Viola Davis, Emily Blunt (who didn't walk the red carpet as far as I can tell, but looked amaze in a canary yellow sequin number), Madeleine Stowe, Octavia Spencer, Salma Heyak (or, at least, the skirt), Madonna, Tina Fey, Sofia Vergara (loved the texture to that mermaid tail), Nicole Kidman, Sarah Michelle Gellar (an unpopular choice, sure, but I dug it), Angelina Jolie (love the bold splash of colour that brings your attention to her face and not, say, her arse or left leg or whatever) and Kate Winslet.
I want...
more shout outs to the likes of Mia Wasikowska (
Jane Eyre
) and Adepero Oduye (
Pariah
) by the likes of Meryl Streep. So much more deserving than George Clooney yet again talking about just how gosh darn great Brad Pitt. If he's so great, how about you go back in time and tell the Globe voters to vote for him instead of you. I mean,
Moneyball
is a far better film than
The Descendants
by a long, wide margin and Pitt is much better, effortlessly so which probably explains the reason why
Moneyball
hasn't become his own
Erin Brockovich
, than Clooney, too. Basically,
The Descendants
and
The Iron Lady
are so incredibly shit that even their winners can't help but give props to other more deserving candidates. I feel like I've gone off track with this one and since I didn't like what Meryl was wearing, I will not include a picture.
I want...
more of this at awards shows!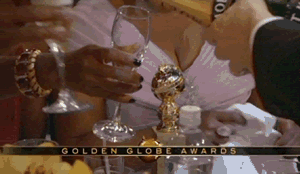 Viola Davis thanking the waiter for topping up her champagne was one of the highlights of the event. And, if I remember correctly, this was
before
her category was even announced so had she won we would have hopefully had a funny, somewhat drunken speech to go alongside the elegant, eloquent speech she gave the Critics Choice awards just a few days earlier.
I want...
more of this while we're at it!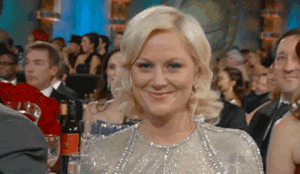 Can these two make a movie together that's not, ya know,
Baby Mama
or whatever that shite was. Actually, can Tina Fey just try and make a movie as good as
Mean Girls
again? Remember that? That was fun.
I want(ed)...
Ryan Gosling. He was apparently swanning about some foreign country filming a movie, but I wanted him in my
bedroom
TV set. In a day full of upsetting and depressing events (
The Descendants
, Ricky Gervais back on TV, Elton John, etc) he would have been a bright star. Alas, not even two nominations could convince him to hop back over the pond and attend the soiree and dazzle us with his impeccable dress code and good looks. Basically, worst Golden Globes ever!
Ryan Gosling... too cool for school the Golden Globe Awards.