Do you watch
Cougar Town
? You should. It's the only show on television that is guaranteed to send me into fits of laughter. Whenever I watch it I have to record it at the same time so I can go back and revisit all the jokes I missed! Purchasing season 1 on DVD was one of the best decisions I made in recent months, true fact!
Last night, completely by accident, I stumbled across the season 2 premiere (at 10.30 at night, for shame Channel 7 and Australian television viewers who, for some reason, still watch
Grey's Anatomy
and
Two and a Half Men
) and I was so glad to have it back. There was a hilarious Jennifer Aniston cameo (the sage leaves! OH MY GAWD, THE SAGE LEAVES! I nearly fell off the couch with laughter) as well as "movie mash-ups", a new drinking game ("we drink while we're doing it!") that the cul-de-sac crew invented. It's very hilarious and, ta da, here it is on YouTube.
I bring this up because over at
My New Plaid Pants
, my mate Jason is doing a movie mash-up of sorts (not the same as
Cougar Town
, but it works as a tie in nonetheless) as he counts down his favourite films and performances of 2010. You should definitely go read if the thought of
I Am Fish Tank
appeals to your laugh gene. (Wait, do we even
have
a laugh gene?)
Connor:

We should definitely fuck.


Emma Recchi:

Bellissimo!
Amazing. He also came up with this as a "moment of 2010 awesomeness", which I can't help but scream "Yes!" at.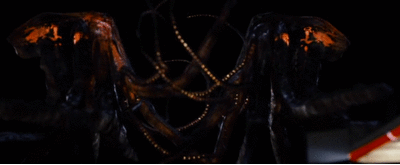 And speaking of "best of 2010" have you been following Nathaniel Rogers'
Film Bitch Awards
? They're routinely my favourite part of any given Oscar season (give or take the actual Oscars) what with their less narrow view and fun sub-categories, which are about to get under way. "Best Cameo", anyone? How about "Best Musical Sequence"? Fantastic.
Although, if you want to take a look at my favourite personal ballot of the season - don't you much prefer them to same ol' same ol' organisations? - it would have to be Guy Lodge's at
In Contention
. There is
part one
and
part two
to indulge in and it's fabulous stuff. I may not have liked them but titles like
Dogtooth
,
The Fighter
and
Everyone Else
sitting alongside those I do like such as
Black Swan
,
White Material
,
Fish Tank
and
The Illusionist
makes for a compelling, personal, fascinating read. I suggest you run along and do so.
Now.