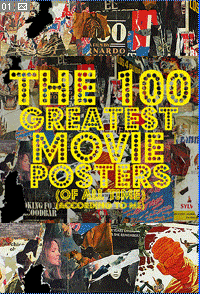 The 100 Greatest Movie Posters
(Of All Time)

(According to Me)
Tomorrow will see the start of the 100 Greatest Movie Posters countdown here at
Stale Popcorn
. It is something that I have been researching for quite a while. Perusing websites
far
and
wide
, including all the major poster collection websites. In my research I discovered that there are barely any lists like this one out there. Don't expext the countdown to look like the
American Film Institute's
. Just because they're old doesn't make them good! Which brings me to a painful admission; while there are many old posters represented I think people who worship at the alter of old-fashioned painted posters will be disappointed. Trust me, as someone who has looked at over 100,000 of them (yeah,
tell me about it
, it's quite easy if you know where to look) if you've seen one you've seen
a lot
. They're basically all the same! I think my list is well balanced between old and new.
Of course I have my own biases too. Certain things just pique my interest more than others. And there are situations where I have seen the film in question and can look at the poster differently than if I haven't. It's just a fact of life that I haven't seen every movie out there - nor have I looked at every movie poster from every country in the world. But believe me when I tell you I looked, and looked hard!
I had a list of over 500 posters to choose from and slowly wittled them down to a scant 100. There were quite a few designs that I alternated in and out of the final list. Eventually I settled on a 100 that I am confident about, but that doesn't mean I won't miss these beauties (the below image is clickable and
very
large):
I'm very happy with the final list I have from #1 through to #75, but like any list such as this the low register end is always a little fuzzy. You remove one and put in another you're happy for about a minute and then you want the other one back, but can't bare to remove the one you just placed.
AAAGH!
I made a pact with myself once I had a top 100 I was happy with I would stick to my guns and keep it, but I tell ya - it was painful to not include some of those 36 from the above image. Namely
Anna Karenina
,
Sunset Blvd
,
Cabin in the Sky
,
Dreaming Lips
,
Face/Off
,
In the Heat of the Night
,
Scream
and - perhaps the best title design I came across -
Trafic
. Those, and all the others pretty much - could almost all be swapped into the top end of the countdown and I wouldn't be
too
fussed. But,
NO
. It's done.
Some things you should know:
It doesn't get really interesting until later into the countdown, which is always the case.



Only one poster from the top five is in that little animation at the top there. And it's #5, too. So nothing spoiled. I finally figured out how to do animation so thought I'd do something - you like? If you didn't actually see the animation then either refresh the page and wait or save the image and click it then.



Quad Posters were ineligible. They have a tendency to be better than traditional designs, but I ruled them out because not only do they have an unfair advantage most of the time, but they also aren't traditional posters and I couldn't be bothered looking through all of them as well.



There's only two Polish posters on the whole list because I tend to find them ridiculous and silly.



Likewise, there's only one Japanese poster on the list because I tend to get a headache from looking at them.



It's my list. Not yours. I asked you for suggestions ages ago and some people will find the titles they suggested make it onto the list. Some will they find they have not. There's not much I can do about that.



The posters for Scarface, M*A*S*H, Psycho and Breakfast and Tiffany's do not appear anywhere on this list. They all shortlisted, but didn't get past the second round. I just didn't care for them enough. I must confess that the Scarface poster is forever tainted by the fact that it seems every fictional character has it hanging on their wall whether it fits with the character or not.



Christ, that AFI top 100 posters is terrible. I fail to see what's even remotely fantastic about 75 of them. Again, just because it's old doesn't mean it's good. Similarly, just because it's new doesn't mean it's bad. Hence, there are several posters from even the last couple of years on here.



I aim to post at least one a day. I figure that's doable. I will try and write something for all of them, but sometimes I just won't be able to and may have to revisit at a later date. Some posters will inspire me to write essays, most likely.



I've had my #1 since I first concocted the idea of doing this list. And it's something that silly AFI list would never dare honour. Too horrific, perhaps *nudgewink*
So, tomorrow it all begins at #100 with something Andy Warhol cooked up.
Resources (without them I'm useless):
Posterati
Internet Movie Poster Awards
Heritage Movie Posters
All Posters
Movie Poster Database
Kinoart
Posterwire
Movie Poster Warehouse
Lynch Posters